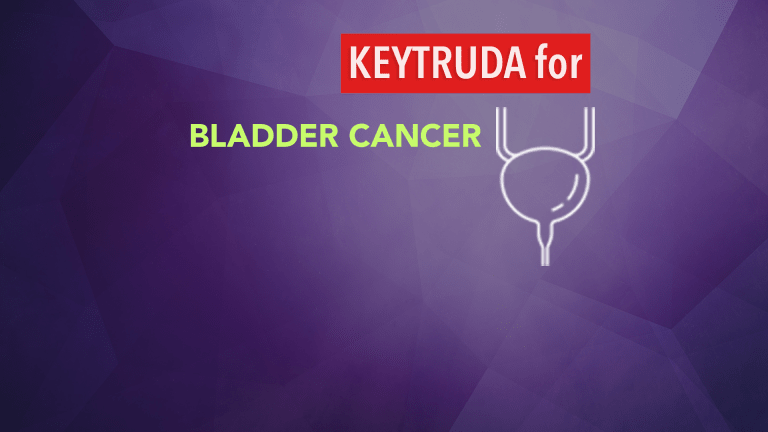 Keytruda Improves Survival of Advanced Bladder Cancer
Keynote 45-Keytruda superior to chemotherapy for treatment of recurrent urothelial cancer.
by Dr. C.H. Weaver M.D. updated 6/2020
Patients with recurrent urothelial cancer lived longer when they received Keytruda (pembrolizumab) compared to chemotherapy as second-line treatment, according to long-term follow of a clinical trial presented at the Genitourinary Cancer Symposium.1  A pivotal trial however did not demonstrate that the addition of Keytruda to standard chemotherapy improves outcomes significantly.2
About Bladder Cancer
Bladder cancer will be diagnosed in approximately 77,000 people in the United States this year alone. The average age that patients are diagnosed with bladder cancer is 70 years, with 80% of these patients being former smokers. The most common type of bladder cancer is urothelial carcinoma, whereby cancer begins in the cells that line the bladder.
Urothelial carcinoma may involve parts of the kidney, bladder, and ureter (the tube that connects the kidney to the bladder). Urothelial carcinomas begin in the cells that line the particular organ in which the cancer develops. If detected and treated early, cure rates are high. However, once bladder cancer has spread outside of the bladder to distant sites in the body, effective treatment options remain limited, particularly if a patient experiences a cancer recurrence following prior therapies. Advanced bladder cancer refers to cancer that has spread outside the bladder to regional or distant sites in the body.
Because the majority of patients diagnosed with bladder cancer are elderly and/or former smokers, they are often too frail to be treated with the standard chemotherapy agent approved for the treatment of advanced stages of this disease, cisplatin. Patients who are not able to tolerate cisplatin may be treated with the chemotherapy agent carboplatin, which provides a median survival of approximately 9-10 months.
About Keytruda
Keytruda (pembrolizumab) is a monoclonal antibody that helps to restore the body's immune system in fighting cancer. It creates its anti-cancer effects by blocking a specific protein used by cancer cells called PD-L1, to escape an attack by the immune system. Once PD-L1 is blocked, cells of the immune system are able to identify cancer cells as a threat, and initiate an attack to destroy the cancer. Keytruda is approved for the treatment of certain types of metastatic melanoma and head and neck cancer.
About The KEYNOTE-045 Clinical Study
The KEYNOTE-045 clinical study was designed to compare Keytruda to standard chemotherapy as selected by the treating physician in patients with advanced urothelial cancer that had recurred or progressed following platinum-based chemotherapy. Overall 542 patients were treated with Keytruda alone or investigator-choice of Taxol, Taxotere, or vinflunine and directly compared. Merck, the study sponsor has announced that Keytruda was determined to be superior to investigator choice chemotherapy and the independent Data Monitoring Committee has recommended that the trial be stopped early because Keytruda has been demonstrated to prolong patient survival.
After a median follow-up of 28 months both 12- and 24-month survival was significantly prolonged in the group treated with the Keytruda. The 12-month survival was 44.4% with Keytruda and 29.8% with chemotherapy, and the 24-month survival was 27.0% versus 14.3% with Keytruda and chemotherapy, respectively. Patients treated with Keyturda had a median survival of 10.3 months compared to 7.3 months for those who received chemotherapy and PD-L1 expression status did not influence response to treatment with pembrolizumab or the survival benefit.
About KEYNOTE-361 - Keytruda as initial therapy
KEYNOTE-361 evaluated Keytruda as monotherapy and in combination with chemotherapy versus chemotherapy alone, the current standard of care, for the first-line treatment of advanced or metastatic urothelial carcinoma in 1,010 patients. The Keytruda combination did delay cancer progression and improve survival but not to the extent required to meet the pre-specified endpoints of improving overall survival or progression-free survival, compared with standard of care chemotherapy.2
References:
Merck's KEYNOTE-045 studying keytruda in advanced bladder cancer (urothelial cancer) meets Primary Endpoint and stops early. [Press release.] Can be retrieved here