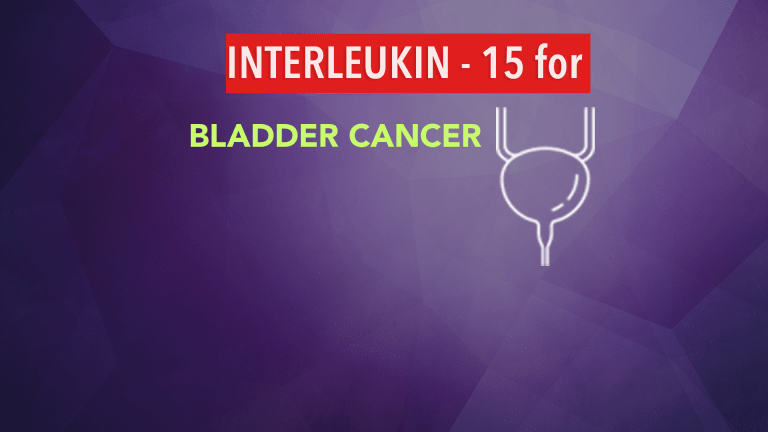 Interleukin - 15 Agonist N-803 Effective in Resistant Superficial Bladder Cancer
FDA Grants N-803 Combo Breakthrough Therapy Status for Non-Muscle Invasive Bladder Cancer
by Dr. C.H. Weaver M.D. 12/2019
A novel immunotherapy medication that mimics interleukin-15 (IL-15) has been granted Breakthrough Therapy by the US Food and Drug Administration. The medication-N-803 when used in combination with Bacillus Calmette-Guerin (BCG) appears effective for the treatment of refractory non-muscle invasive bladder cancer.
Bladder cancer is a common cancer; approximately 81,000 individuals are diagnosed in the U.S. each year. Superficial bladder cancer refers to cancer that remains localized within the outermost (most superficial) layers of the bladder and has not spread to deeper layers. Patients with superficial bladder cancer are routinely treated with surgical removal of the cancer and adjuvant immunotherapy to decrease the risk of cancer recurrence or progression to more invasive disease.
Following the removal of the cancer, patients with superficial bladder cancer are usually treated with adjuvant intravesical therapy (placement of the drug directly into the bladder). This often consists of mitomycin C or Bacillus Calmette-Guérin. BCG, an immunotherapy agent, is derived from a weakened form of a bacterium related to bacteria that cause tuberculosis that has been the first-line treatment for non-muscle invasive bladder cancer (NMIBC) for the past 30 years. However, a significant percentage of patients do not respond to BCG or see their cancer progress after treatment.
N-803, previously known as ALT-803 is a lab-made fusion protein. It mimics the effect of IL-15 a naturally - occurring protein that stimulates immune cells to attack cancer.
The "Breakthrough Therapy" designation was granted based on the preliminary results of two clinical trials that demonstrated that six out of seven (86%) patients with non-muscle invasive bladder cancer achieved a complete response to treatment with BCG and N-803, and that the combination was well-tolerated.
Reference:
Early Phase 2 Clinical Results of IL-15RαFc Superagonist N-803 With BCG in BCGUnresponsive Non-Muscle-Invasive Bladder Cancer (NMIBC) Patients Demonstrating 86% CR of Carcinoma In Situ (CIS)