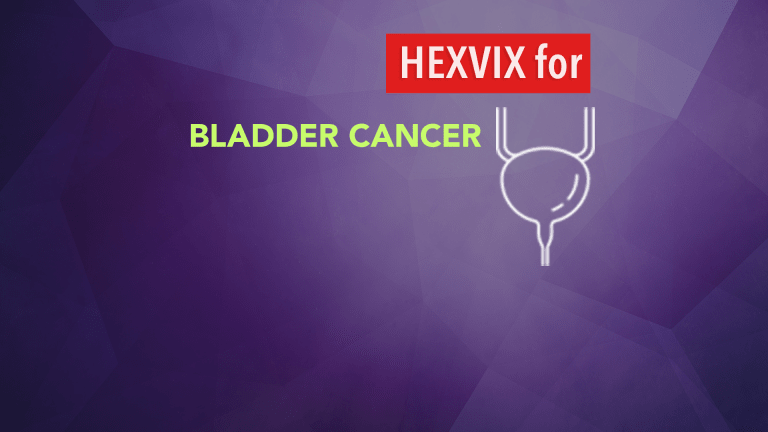 Hexvix® Improves Detection of Early Bladder Cancer
Hexvix® Improves Detection of Early Bladder Cancer
According to a recent article published in the Journal of Urology, detection of early bladder cancer is more successful with hexaminolevulinate (HAL) (Hexvix®)) and cystoscopy than with standard cystoscopy alone.
Bladder cancer is a common cancer-approximately 55,000 new cases are diagnosed in the United States each year. The standard diagnostic procedure for patients who are suspected to have bladder cancer is called a cystoscopy. During this procedure, a physician places a lighted tube into the bladder to look for any abnormalities. In the process, they are also able to remove small pieces of abnormal looking tissue (biopsy). However, with traditional cystoscopy using white light, physicians often are not able to detect early or small cancers. Researchers believe that these undetected cancers are responsible for the high rate of bladder cancer recurrences. Novel procedures to improve detection of early bladder cancer are being evaluated in order to treat the cancer when it is most curable and recurrence rates can be reduced.
Photosensitizers have emerged as novel approaches for screening and/or treatment of some cancers. Hexvix is a photosensitizer that has been developed and is still in clinical trials for the diagnosis of bladder cancer. To utilize Hexvix, a mixture containing the photosensitizer is placed into a patient's bladder. The solution is left in the bladder for a period of time during which Hexvix tends to accumulate only in cancer cells. The patient then empties his or her bladder, and the physician places a tube in the bladder that illuminates the bladder with a blue light. This wavelength of light causes the photosensitizer to fluoresce a red color, easily visible by the physician. Hexvix is not yet approved by the U.S. Food and Drug Administration (FDA), but has currently submitted information for FDA review prior to approval.
Researchers from Germany and the Netherlands recently conducted a clinical trial to confirm results of previous trials comparing Hexvix to standard cystoscopy in the detection of bladder cancer. This trial involved 146 patients with known or suspected bladder cancer. Patients underwent either a standard cystoscopy or Hexvix and blue-light cystoscopy. Overall, more cancers were detected with the use of Hexvix, resulting in more appropriate treatment management of bladder cancer compared with standard cystoscopy. Ninety-six percent of all cancers or pre-cancerous cells were detected with the use of Hexvix, whereas only 77% of cancers or pre-cancerous cells were detected with the use of standard cystoscopy. Overall, approximately 17% of patients received more appropriate treatment due to the use of Hexvix with cystoscopy when compared to standard cystoscopy. Treatment with Hexvix is generally very well tolerated.

These physicians concluded that the results of this clinical trial add further evidence that the use of Hexvix enhances detection of bladder cancer compared to standard cystoscopy alone. Patients with suspected or known bladder cancer who are to undergo cystoscopy may wish to speak with their physician about the risks and benefits of participating in a clinical trial further evaluating Hexvix or other promising screening procedures. Sources of information regarding ongoing clinical trials include the National Cancer Institute (www.cancer.gov).
Reference: Jocham D, Witjes F, Wagner S, et al. Improved Detection and Treatment of Bladder Cancer Using Hexaminolevulinate Imaging: A Prospective, phase III Multicenter Study. *Journal of Urology.*2005;174:862-866.