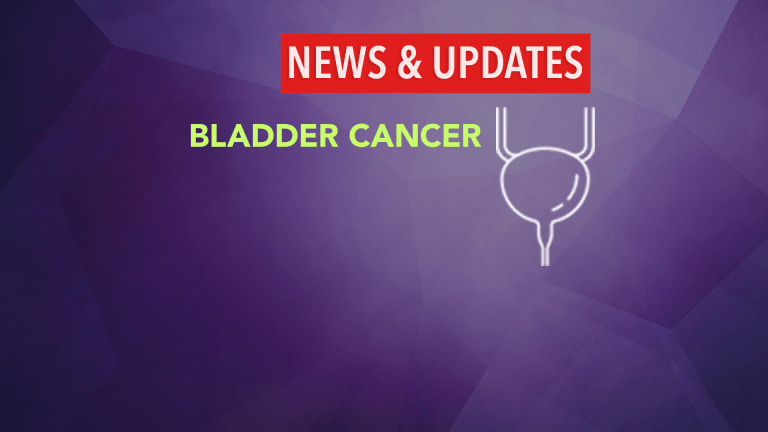 Chemotherapy after Surgery Appears to Improve Survival in Bladder Cancer
Chemotherapy after Surgery Appears to Improve Survival in Advanced Bladder Cancer
Patients with advanced bladder cancer who receive chemotherapy after surgery to remove the bladder have better overall survival than patients who undergo surgery alone. These findings were presented at the 2015 Genitourinary Cancers Symposium on February 26–28 in Orlando, Florida.
Patients with Stage III, or advanced, bladder cancer have cancer that invades through the connective tissue and muscle and into the immediate tissue outside the bladder; it can also invade the prostate gland in males or the uterus and/or vagina in females. With Stage III bladder cancer, there is no spread to lymph nodes or distant sites.
Patients with bladder cancer may be treated with a radical cystectomy, which is surgery to remove the bladder and some nearby organs. These patients may also receive adjuvant chemotherapy—additional treatment administered after cystectomy. The goal is to eliminate any cancer that remains after surgery, thereby reducing the risk of cancer recurrence. Ongoing research is evaluating the benefits of giving patients adjuvant (additional) chemotherapy following cystectomy or waiting until signs of relapse (observation).
A recent clinical trial compared outcomes between adjuvant chemotherapy and observation in patients with advanced bladder cancer. The study included 3,294 participants, who had all undergone cystectomy. Of these patients, 937 had also received adjuvant chemotherapy.
Patients who received cystectomy plus adjuvant chemotherapy had better overall survival compared with patients who underwent cystectomy only. The patients who received adjuvant chemotherapy tended to be younger, had more lymph nodes involved, and had more invasive disease.
According to these findings, adjuvant chemotherapy following cystectomy for advanced bladder cancer improves survival compared with cystectomy followed by observation. There hasn't previously been much evidence to support adjuvant chemotherapy in advanced bladder cancer, or, for that matter, much advanced study into the regimen. This information fills that gap and supports the use of adjuvant chemotherapy for advanced bladder cancer.
Reference: Galsky MD, Stensland K, Moshier EL, et al. Comparative Effectiveness of Adjuvant Chemotherapy (AC) versus Observation in Patients with ? Pt3 and/or Pn+ Bladder Cancer (BCa). Presented at the 2015 Genitourinary Cancers Symposium. Journal of Clinical Oncology. 2015; 33 (supplement 7; abstract 292).