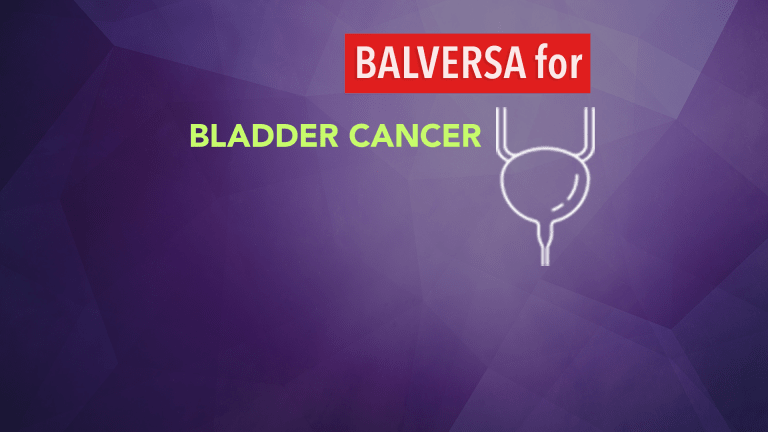 by Dr. C.H. Weaver M.D. updated 4/2019
On April 12, 2019, the Food and Drug Administration granted accelerated approval to Balversa (erdafitinib) for treatment of patients with locally advanced or metastatic urothelial carcinoma, with susceptible FGFR3 or FGFR2 genetic alterations, that has progressed during or following platinum-containing chemotherapy, including within 12 months of neoadjuvant or adjuvant platinum-containing chemotherapy.(1) The FDA had previously granted Breakthrough Therapy Designation to Balversa for patients with metastatic bladder cancer.
About Balversa
Balversa is a is an oral pan-fibroblast growth factor receptor tyrosine kinase inhibitor precision cancer medicine that targets genetic alterations known as fibroblast growth factor (FGFR) 3 or 2 which regulate important biological processes including cell growth and division during development and tissue repair. FGFR alterations are present in approximately one in five patients with recurrent and refractory bladder cancer. An FDA-approved companion diagnostic test for FGFR therascreen® is necessary to detect FGFR 3 and 2.
Balversa's FDA approval was based on evaluation of 87 patients with locally advanced or metastatic urothelial carcinoma that had progressed on or after at least one prior chemotherapy treatment and had certain FGFR3 gene mutations or FGFR2 or FGFR3 gene fusions.
Balversa treatment was initiated at a starting dose of 8 mg once daily and gradually increased until disease progression or unacceptable side effects.
Overall 32.2% of individuals responded to treatment with complete responses in 2.3% and partial responses in 29.9%. The average duration of response was 5.4 months and included individuals who had previously not responded to anti PD-L1 or PD-1 "checkpoint inhibitor" treatment.
About Bladder Cancer
Bladder cancer will be diagnosed in approximately 77,000 people in the United States this year alone. The average age that patients are diagnosed with bladder cancer is 70 years, with 80% of these patients being former smokers. The most common type of bladder cancer is urothelial carcinoma, whereby cancer begins in the cells that line the bladder.
Urothelial carcinoma may involve parts of the kidney, bladder, and ureter (the tube that connects the kidney to the bladder). Urothelial carcinomas begin in the cells that line the particular organ in which the cancer develops. If detected and treated early, cure rates are high. However, once bladder cancer has spread outside of the bladder to distant sites in the body, effective treatment options remain limited, particularly if a patient experiences a cancer recurrence following prior therapies. Advanced bladder cancer refers to cancer that has spread outside the bladder to regional or distant sites in the body.
Because the majority of patients diagnosed with bladder cancer are elderly and/or former smokers, they are often too frail to be treated with the standard chemotherapy drug approved for the treatment of advanced stages of this disease, cisplatin. Patients who are not able to tolerate cisplatin may be treated with the chemotherapy agent carboplatin, which provides a median survival of approximately 9-10 months.
Doctors from MDACC had previously reported the outcomes of Balversa treated patients with FGFR alterations. They treated 99 individuals with a median of 5 cycles of Balversa. Overall 40% of patients responded to treatment: 3% of patients had a complete response and 37% a partial response.
According to the study presenter Arlene Siefker-Radtke, MD, Professor, Department of Genitourinary Medical Oncology, Division of Cancer Medicine, The University of Texas MD Anderson Cancer Center. "This trial had a very impressive response rate in people that were pretty heavily pre-treated, and it was interesting that some of the patients who responded to this drug were resistant to immune checkpoint inhibitors,"
The most common side effects of Balversa were stomatitis, fatigue, diarrhea, dry mouth, and nail changes. Balversa can also cause ocular disorders. Central serous retinopathy or retinal pigment epithelial detachment resulting in visual field defects was reported in 25% of patients. .
Balversa was approved under accelerated approval based on tumor response rate. Continued approval for this indication may be contingent upon verification and description of clinical benefit in confirmatory trials. FDA granted this application priority review and breakthrough therapy designation.
References: