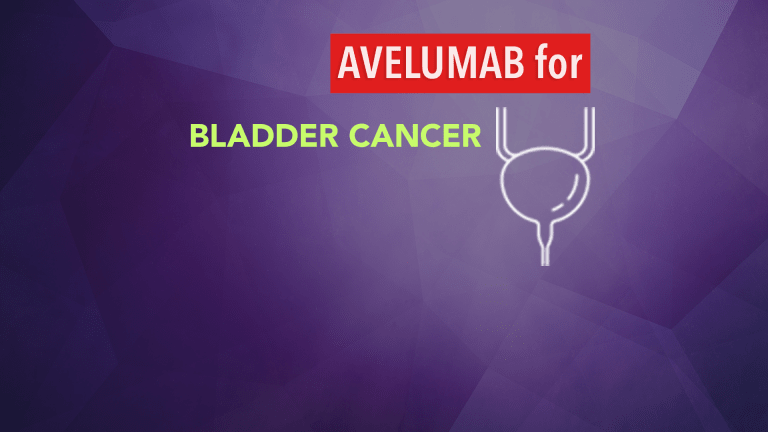 Avelumab Immunotherapy Approved for Bladder Cancer
ASCO Update - Bavencio immunotherapy superior - improves bladder cancer treatment outcomes.
by Dr. C.H. Weaver M.D. updated 6/2021
Bavencio (avelumab), immunotherapy is a programmed cell death ligand–1 (PD L1) inhibitor that has been approved for treatment of patients with locally advanced or metastatic urothelial carcinoma.
About Urothelial Cancer
Bladder cancer is the most common type of urothelial carcinoma, and up to half of all people with the advanced form of the disease are unable to receive cisplatin chemotherapy as an initial treatment and therefore have a high unmet medical need. Urothelial carcinoma also includes cancers of the urethra, ureters and renal pelvis. According to the American Cancer Society (ACS), it is estimated that more than 80,000 Americans will be diagnosed in 2021 with bladder cancer, which is the most common type of urothelial cancer.
Discuss this article with other patients and caregivers facing a diagnosis of bladder cancer.
About Bavencio
Bavencio targets the programmed cell death-ligand PD-1/PD-L1 pathway with potential immune checkpoint inhibitory and anti-cancer activity. When Bavencio binds to PD-L1 it blocks the interaction of PD-L1 with its receptor protein 1 (PD-1). This inhibits the activation of PD-1 and restores immune function through the activation of cytotoxic T lymphocytes targeted to PD-L1-over expressing cancer cells.
In the JAVELIN Bladder cancer clinical trial 700 patients with unresectable locally advanced or metastatic urothelial carcinoma and no disease progression following chemotherapy (with either gemcitabine combined with cisplatin or carboplatin) were treated with maintenance Bavencio and best supportive care or best supportive care alone and directly compared. 
Bavencio treatment improved overall survival from 14.3 months to 21.4 months on average. Just over half the patients had cancers that were positive for programmed death-ligand 1 (PD-L1) and these patients appeared to have even better survival.
Bavencio was initially granted an accelerated approval by the US Food and Drug Administration on the basis of a single clinical trial that enrolled 242 patients. All patients in the clinical trial had locally advanced or metastatic urothelial carcinoma and had experienced disease progression while receiving or after having received platinum-based chemotherapy or within 12 months of receiving a platinum-containing neoadjuvant or adjuvant chemotherapy regimen.
Patients were treated with intravenous Bavencio every 2 weeks until cancer progression or unacceptable side effects. The results of the clinical trial confirmed an overall response rate of 13% to 17% although additional follow up is required. Patients took on average 2.0 months (range, 1.3 – 11.0) to respond to treatment and the average duration of response had not been reached.
The most common side effects reported with Bavaencio in bladder cancer have been urinary tract infections, anemia, blood in the urine, fatigue, and back pain. Bavencio joins three similar immunotherapies already approved for the treatment of bladder cancer, expanding patients options for treatment for the first time in many years.
References: