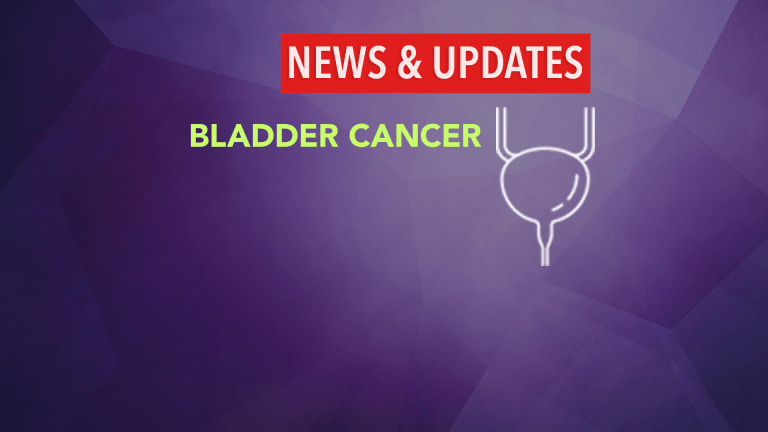 Adjuvant Chemotherapy May Improve Survival with Muscle-Invasive Bladder Cancer
Adjuvant Chemotherapy May Improve Survival with Muscle-Invasive Bladder Cancer
A pooled analysis of five small phase III clinical trials suggests that chemotherapy after surgery for muscle-invasive bladder cancer improves survival and reduces recurrences. These results were published in the journal Cancer.
The bladder is a hollow organ in the lower abdomen. Its primary function is to store urine, the waste that is produced when the kidneys filter the blood. The bladder has a muscular wall that allows it to get larger and smaller as urine is stored or emptied.
Treatment of locally advanced bladder cancer (cancer that has invaded the bladder wall into the muscle, but cannot be detected elsewhere in the body) often involves a radical cystectomy. A radical cystectomy is the surgical removal of the bladder, tissue around the bladder, as well as the prostate and seminal vesicles in men and the uterus, fallopian tubes, ovaries, anterior vaginal wall, and urethra in women.
Long-term outcomes among patients with muscle-invasive bladder cancer vary, and research is ongoing to determine which variables or differences in treatment influence outcomes.
It is still uncertain whether adjuvant chemotherapy (chemotherapy given after surgical removal of the bladder) improves patient outcomes. Clinical trials of adjuvant chemotherapy for muscle-invasive bladder cancer have produced inconclusive results, largely because of small sample sizes.
In order to summarize the available evidence about the effect of adjuvant chemotherapy, researchers in Italy conducted a pooled analysis of five phase III clinical trials. These trials enrolled a total of 350 patients. Results were as follows:
Taken together, the five studies suggested a 25% lower risk of death in patients who received chemotherapy after surgery.
Survival without new or recurrent cancer was also better in patients treated with chemotherapy after surgery.
The results were generally similar across the five studies.
The researchers conclude that these results favor the use of chemotherapy after surgery for muscle-invasive bladder cancer. They caution, however, that current clinical practice should not be changed unless these findings are confirmed by three large ongoing phase III clinical trials.
Reference: Ruggeri EM, Giannarelli D, Bria E et al. Adjuvant Chemotherapy in Muscle-Invasive Bladder Cancer. Cancer. 2006;106:783-8.