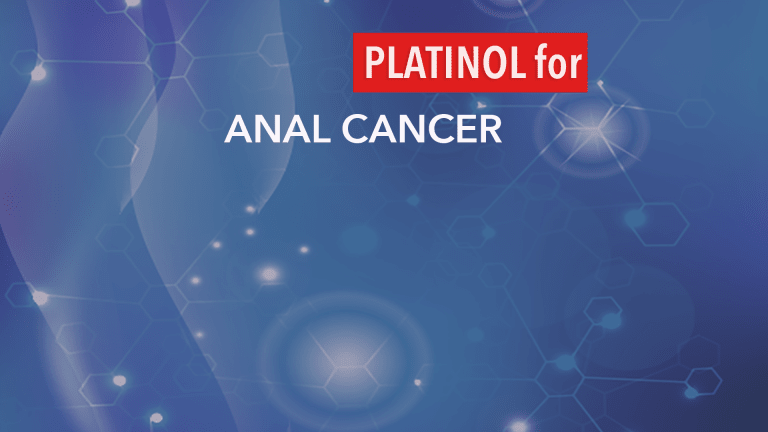 No Benefit with Addition of Platinol® to Treatment for Anal Cancer
No Benefit with Addition of Platinol® to Treatment for Anal Cancer
Addition of the drug Platinol® (cisplatin) to 5-FU (5-flourouracil), mitomycin, and radiation may not improve outcomes for patients with anal cancer. These findings were recently published by the Journal of the American Medical Association.
Anal cancer is a rare form of cancer that develops in the tissues of the anus. Although treatment for anal cancer if often very effective, with most patients experiencing a cure, anal cancer can be a serious condition. The American Cancer Society estimates that 680 people will die of anal cancer in 2008. Current treatment options include surgery, radiation, and chemotherapy.
Current standards for treating anal cancer include chemotherapy and radiation. The five-year survival rate, however, following treatment with 5-FU, mitomycin, and radiation is only about 65%. Researchers in the current study sought to determine if the addition to standard therapy of Platinol, an alkylating agents that kills cancer cells by damaging their DNA, could improve outcomes of patients with anal cancer.
Study participants included 682 patients diagnosed with anal cancer between 1998 and 2005. Patients were further categorized according to their gender and tumor features. Participants received either 5-FU, mitomycin, and radiation (341 patients) or Platinol, 5-FU, mitomycin, and radiation. The goal of the study was to measure five-year survival rates, as well as overall survival and time to relapse. Results were evaluated from 644 patients. The average patient age was 55 years; 69% were women; 27% had tumors that were greater than 5cm; and 26% had positive lymph node involvement.®

Five-year survival rates were 60% among the patients treated with 5-FU and mitomycin compared with 54% among the patient treated with Platinol.
Among the patients treated with 5-FU/mitomycin, the five-year local recurrence rate was 25%, and the distant metastasis rate was 15%. Among the patients treated with Platinol as well as 5-FU/mitomycin, these recurrence rates were higher at 33% and 19%.
Fewer patients needed a colostomy among the 5-FU/mitomycin group than the Platinol group (10% versus 19%).
Patients in the 5-FU/mitomycin treatment group, however, reported more frequent severe hematologic side effects, such as low blood counts.
Researchers concluded that the addition of cisplatin to traditional treatment with 5-FU and mitomycin did not improve disease-free survival and contributed to significantly worse colostomy rates. These findings do not support the use of Platinol in addition to 5-FU and mitomycin in the treatment of anal cancer.
Reference: Ajani, J., Winter, K., Gunderson, L., et al. Fluorouracil, Mitomycin and radiotherapy vs. fluorouracil, cisplatin and radiotherapy for carcinoma of the anal canal. Journal of the American Medical Association. 2008; 299(16) 1914-1921.
Related News:®5-FU/Mitomycin Remains Standard of Care for Anal Cancer (07/26/2006)